Stay more nights and get a discount! Ask for a quote!

If you stay with us ab 3 days, you will receive: Trentino guest card and Fiemme guest card

Offer for stays of 7 nights not in High season





<! ******************** sommer card EN 2023 ************************ ->




Trentino & FiemmE-Motion Guest Card Summer 2023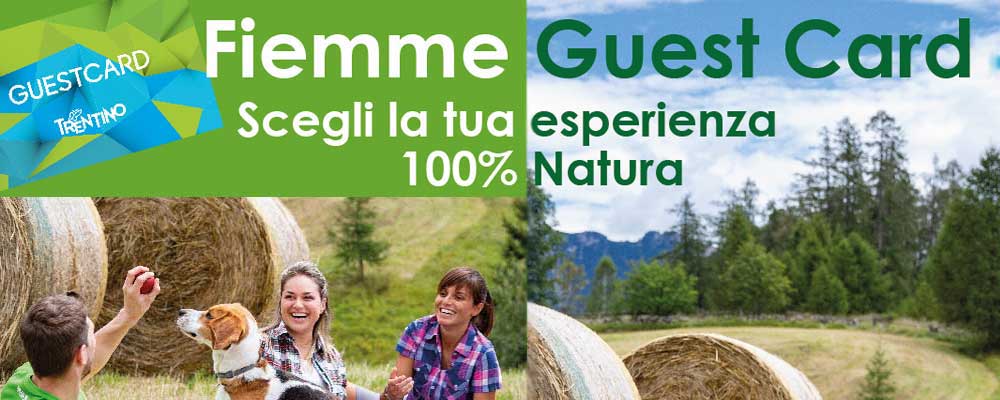 Val di Fiemme's nature is really generous.



Its easy walks, among fir woods, flowery meadows and creeks, are surrounded by the UNESCO Dolomites of the Trentino region. Step after step, discover the 7 wonders, 4 paradises and countless beautiful views of Val di Fiemme.


Accompanying you in this journey is the Fiemme Guest Card that will let you try new experiences, such as spectacular tales, naturalistic excursions, slow movements, mountain sports, visits to museums and mobility on shuttles, little trains and buses.




Upon your arrival in Val di Fiemme you will get one of these two cards. The Fiemme Guest Card and Trentino Guest Cars, included in your stay with no additional cost, will let you discover amazing naturalistic places, museums and the most exciting activities with expert guides.

The two cards also include free mobility on public transportation, trains and shuttles, and with the Fiemme Guest Card you will have discounted access to chairlifts and cable cars to reach the high-altitude paradises among the UNESCO Dolomites.



Fiemme Guest Card


Most hotels, residences, agriturs, B&Bs and apartments of Val di Fiemme, upon your arrival and with no additional cost, they will give you the FIEMME GUEST CARD which offers great opportunities to spend a complete and wonderful vacation




The FIEMME GUEST CARD will let you:




get the Summer Card at the lifts of Val di Fiemme for just 16,50 euro per person (children 0-7 free with each paying adult; kids 8-16 30% off). This summer card gives you access to the chairlifts and cable cars to reach the high-altitude paradises during your stay, if you spend here at least 2 nights.
Every day you can choose among one of these lifts: Alpe Cermis, Latemar Pampeago, Latemar Predazzo, Bellamonte-Castelir
If you are a guest of our partner apartments, you will get a 20% discount on the Fiemme Mountain Pass.

experience daily excursions and outdoor activities with alpine guides, experts, botanists and nature guides, guided visits with tasting at the Wine Cellars of Val di Cembra

move freely around the towns of Val di Fiemme by buses, little road trains, shuttles and on-request coaches

get free admission to the Palazzo della Magnifica Comunità di Fiemme, the Geological Museum of the Dolomites and the Natural Park of Paneveggio Pale di San Martino

get up to 30% discounts on rafting, bike and e-bike rentals, trekking with lamas; entrance to swimming-pools, to the Astronomical Observatory and Planetarium of Tesero, to wellness centers; plus benefits and discounts in mountain huts, restaurants and at local producers






--> Click to weekly program 2023



<! ******************** fine sommer card EN 2023 **************** ->